Power of Philanthropy
The Power of Your Philanthropy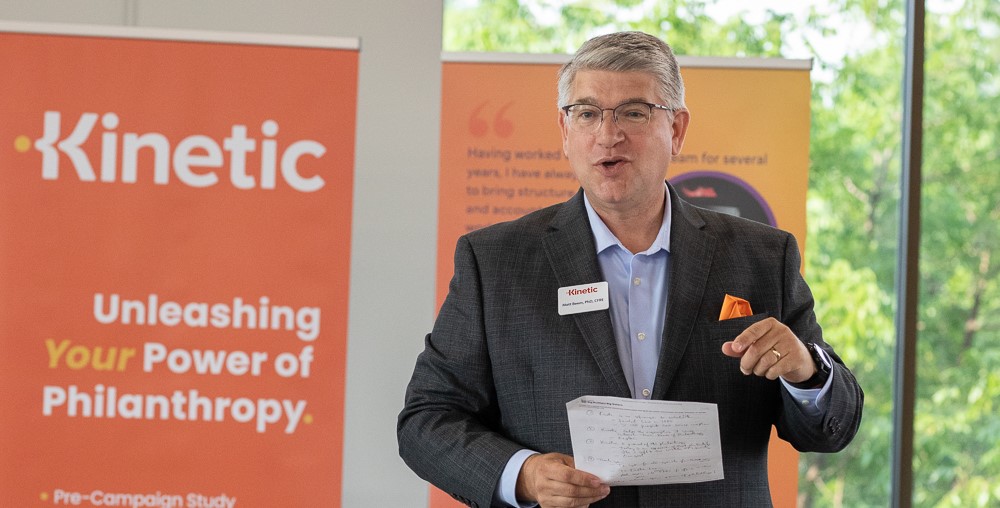 Much has transpired since we first envisioned and launched The Power of PhilanthropyTM blog at the end of 2019. As I shared then, "Financial gifts are important, but every act of generosity matters. We all have the power to decide how we will give and receive generously to unleash the power of philanthropy in our lives and the lives of others."
That generosity has been tested and, I am glad to say, exceeded expectations.
This year, along with our new brand and name—Kinetic—we remain committed to helping you unleash your power of philanthropy.
Giving enhances beneficiaries' lives, providing much-needed resources and support.
Clearly, it helps those served, but it also improves the lives of donors, staff and volunteers. And, in the process, our world becomes a better place. That's the multiplying power of philanthropy.
In the coming year, the Kinetic team looks forward to sharing wide-ranging thoughts on how giving personally transforms the lives of beneficiaries and donors alike, so we all can be reminded of our own power to make a difference.
For more than 36 years, our team has helped nonprofits maximize their resources. We do so by:
Focusing on sustained success and transformational change.
Taking an insight-based, honest approach using holistic research and industry experience.
Making a deep investment in organizations and their communities to maximize their efforts.
Yes, we have achieved extraordinary success with our nonprofit clients as they achieve their financial goals. But that is not our highest motivation.
We do more than connect donors to life-changing missions. We help organizations make transformational changes in how they fundraise so they can unleash their power of philanthropy and exponentially increase their impact on the individuals and communities they serve.
Kinetic is deeply invested in the organizations we serve and the entire philanthropic community. This investment fuels powerful connections and inspires people to become involved and accomplish more together.
We aspire to be a catalyst, adding forward motion and momentum to advance our clients' missions. We would love to do the same for you.
Giving begets giving, so please consider sharing your own experience of giving and receiving.
Send your power of philanthropy perspective to info@kineticfundraising.com.